TP-Link TL-SG108E 8 Port Gigabit EasySmart Switch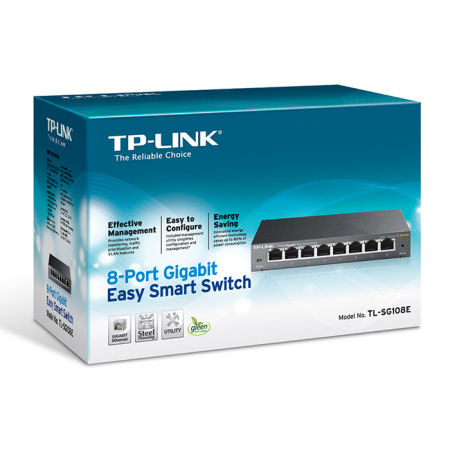 Availability


5+ Available
Warranty
3 Year RTB Warranty
TasTech Product ID
455559
Part/Model Number
· TL-SG108E
· TP-Link's Website

Other Links
· This Category
· All TP-Link Products
TL-SG108E
8-Port Gigabit Easy Smart Switch

The TL-SG108E 8-Port Gigabit Easy Smart switch is an ideal upgrade from an unmanaged switch, designed for Small and Medium Business networks that require simple network management. Network administrators can effectively monitor traffic via Port Mirroring, Loop Prevention and Cable Diagnostics features. To optimize traffic on your business network, TL-SG108E offers Port-based/802.1p/DSCP QoS2 to keep latency-sensitive traffic moving smoothly and jitter-free. Additionally, port-based, tag-based and MTU VLAN can improve security and meet more network segmentation requirements. Moreover, with its innovative energy-efficient technology, the TL-SG108E can save up to 58% of power consumption, making it an eco-friendly solution for your business network.

· 8x 10/100/1000Mbps RJ45 ports
· Provides network monitoring, traffic prioritization and VLAN features
· Innovative energy-efficient technology reduces power output by up to 58%
· Simple network set-up on top of plug-and-play connectivity
· Web-based user interface1 and management utility simplify configuration

TP-LINK's Gigabit Easy Smart switch, TL-SG108E offers network monitoring for users to observe traffic behavior. With Port Mirroring, Loop Prevention and Cable Diagnostics features, TL-SG108E can identify and even locate connection problems on your business network. Moreover, administrators can designate the priority of the traffic based on Port Priority, 802.1P and DSCP Priority, to ensure that voice and video are always clear, smooth and lag-free. Additionally, to improve security and network performance, TL-SG108E supports MTU VLAN, port-based VLAN and 802.1Q-based VLAN functions. TL-SG108E is an upgrade from the plug-and-play Unmanaged Switch, delivering great value while empowering your network and similarly delivering great value to the end user.