TP-Link VIGI C540V 4MP Dual Lens Outdoor Pan/Tilt Wi-Fi Network Camera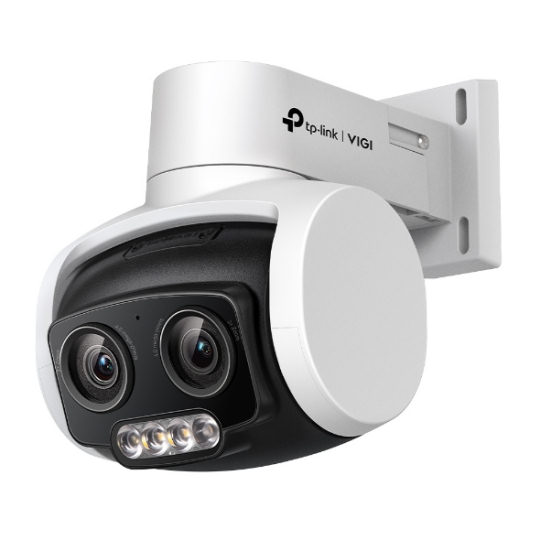 Availability


Not Currently Available
ETA: 08.12.2023
Warranty
2 Year RTB Warranty
TasTech Product ID
538199
Part/Model Number
· VIGI C540V

Other Links
· This Category
· All TP-Link Products
VIGI C540V
VIGI 4MP Outdoor Full-Color Dual-Lens Varifocal Pan Tilt Network Camera

· 4MP Super-High Definition: 4MP offers more than enough pixels to pick up some of the more discreet details.
· 24h Full-Color: Captures 24 hours of full-color details, even in pitch-black conditions, thanks to large-aperture lens, a high-sensitivity sensor, and 4x attached supplemental lights.
· 3x Zoom: Allows for closer viewing of objects in expansive areas.
· Instant Zoom: Zooming is instant without suffering from delays and image dragging.
· Human & Vehicle Classification: Distinguishes humans and vehicles from other objects, so you receive more accurate event notifications.
· Smart Detection: Receive notifications and check feeds when someone crosses a boundary, enters an area you've set, obstructs the camera, removes/abandons objects, or enters/exits certain region.
· Powerful Pan Tilt: Customized patrol routes and auto tracking provide more intelligent options to monitor key areas and improve security within your property.
· Active Defense: Warn potential intruders instantly with sound and light when abnormal events.
· Two-Way Audio: With voice intercom support, carry two-way conversations while watching your feed from anywhere.
· H.265+: Compresses the video size without sacrificing video quality, easing the network load and saving disk space.
· IP66 Waterproof: Reliable IP66 for stable outdoor performance.
· Flexible Management and Storage: Take full control over your security via four management methods: the web UI, NVR UI, VIGI app, and VIGI Security Manager. Local storage is available for each method, as well as onboard storage with SD card slot (up to 256GB).